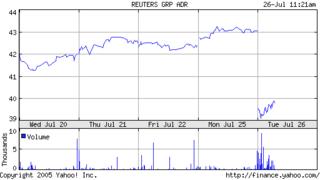 One area of the market I have always avoided has been traditional media stocks. The chart here shows the drop in Reuters today because of its earnings news.
This group is too hard to own. One part of this group is the newspaper stocks. There is visibility for the newspaper as we know it to disappear. I don't know the last time I bought a newspaper, I get what I need from the internet.
I don't have any data but I would not be surprised if magazine sales were less than they were a few years ago. At a minimum growth must be slower? At least that is my perception and so I avoid the group.
Reuters is sort of in this group providing news and financial information. I do not know the story but CNBC Europe has talked a lot today about a long run of revenue and earnings problems. Without knowing the story I think you can just apply a sniff test to this type of company to know it might have trouble delivering great growth.